Kailitech's Commitment to Quality
"Customer-oriented, honest and trustworthy, innovative and continuously upgrading" is our aim. Kailitech will consistently provide customers with product value and technical service with rich industry experience and professional knowledge.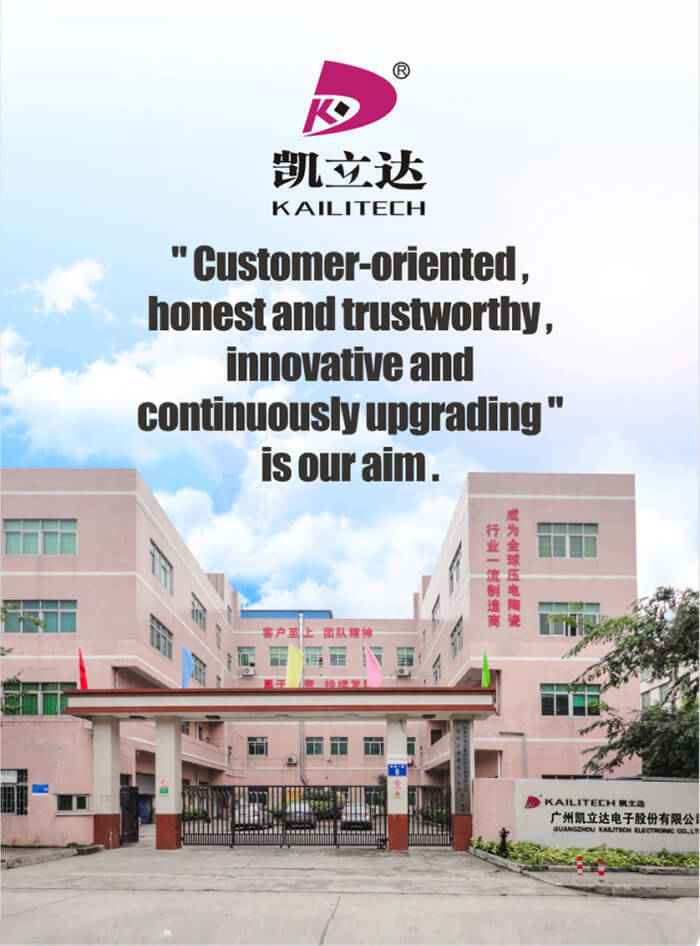 Quality Control System
Kailitech maintains a full Quality Management System based on the ISO9001:2015 requirements. We have been certified to comply with ISO9001 for the Design and production of piezoelectric ceramic chips, piezoelectric ceramic buzzer chips and piezo ceramic sounder and buzzer (Φ5 ~Φ65, ≤36V). ISO 9001 is accepted worldwide as the international standard that defines the guidelines for full quality management system.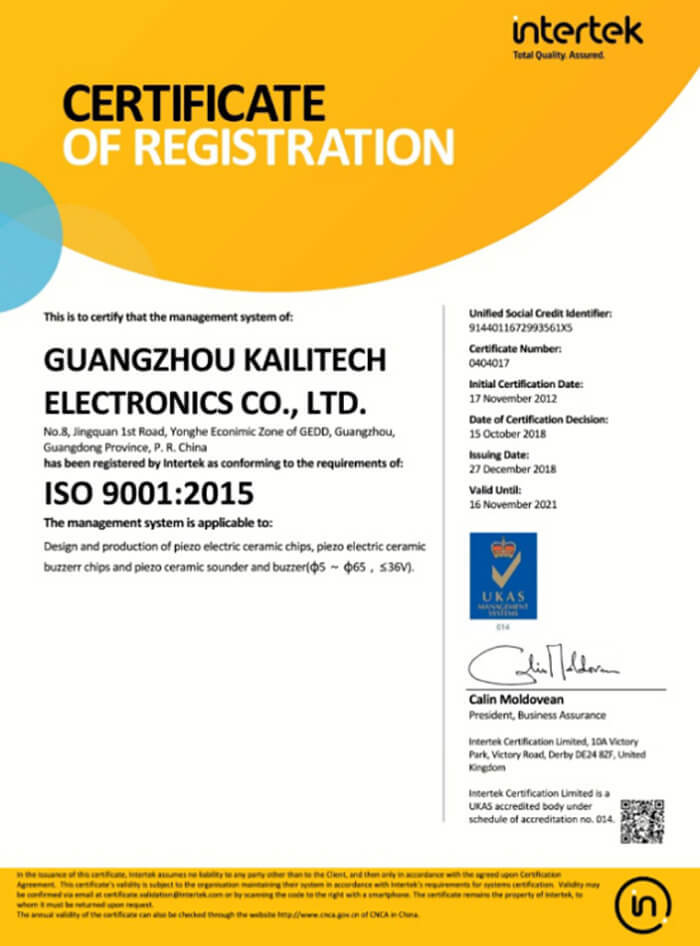 Materials Compliance
RoHS stands for Restriction of Hazardous Substances. RoHS, also known as Directive 2002/95/EC, originated in the European Union and restricts the use of specific hazardous materials found in electrical and electronic products (known as EEE). All applicable products in the EU market after July 1, 2006 must pass RoHS compliance.
Kailitech products has been tested to comply with EU/Rohs since 2004.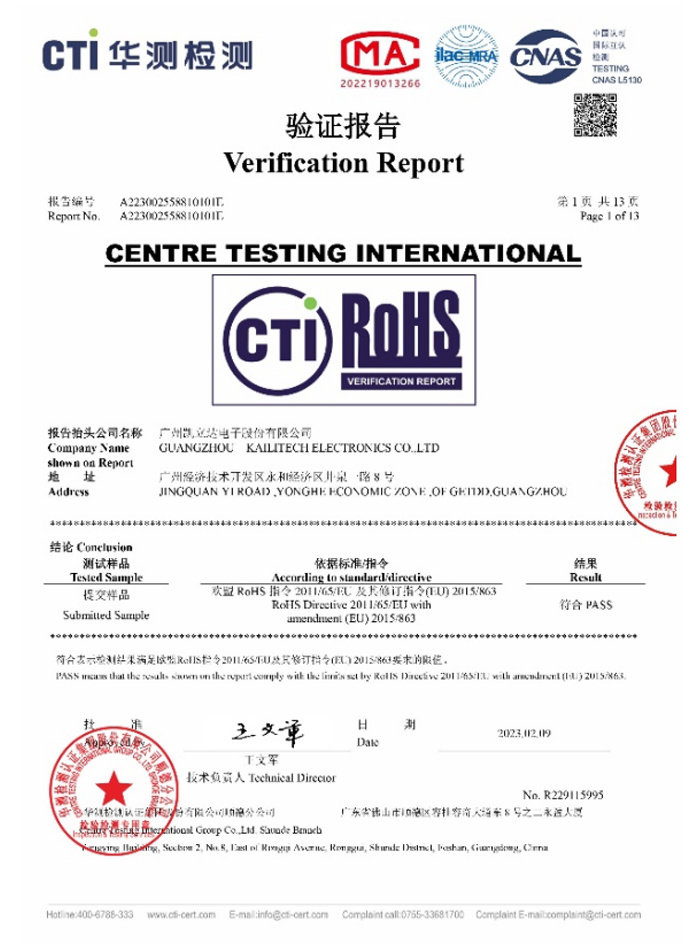 Quality Assurance Process
QC flowchart ensures the finest quality of Kailitech piezo sound compoment products.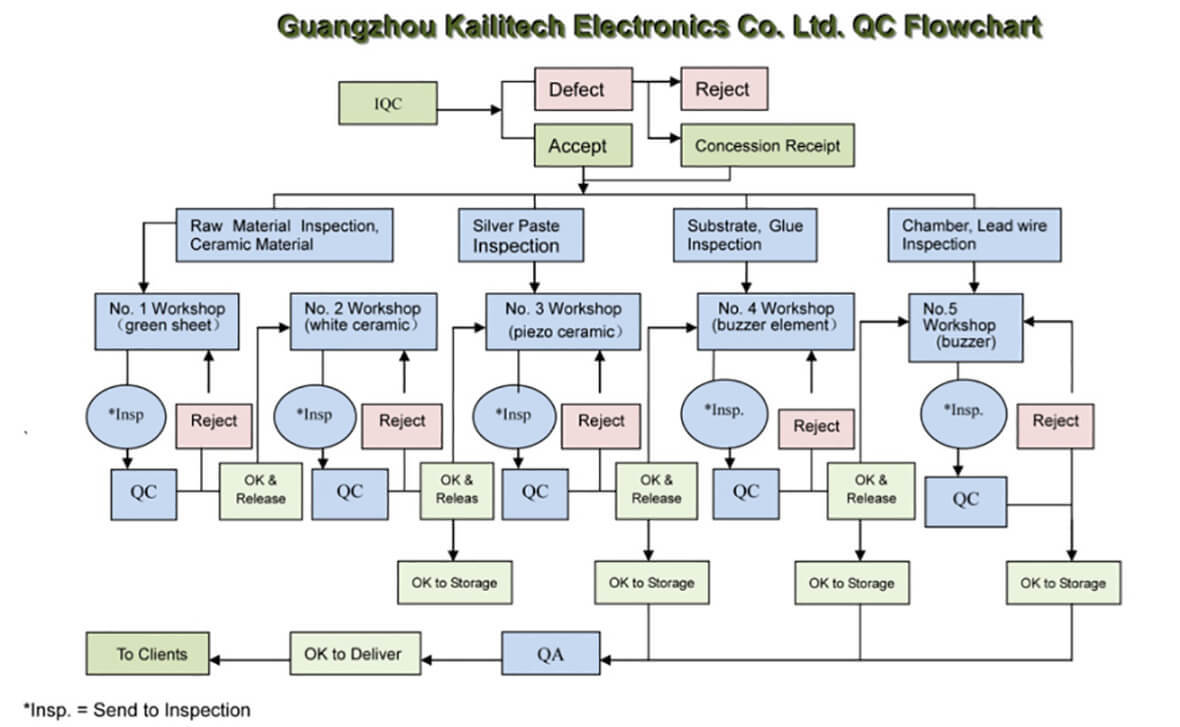 Product Reliability
Here are some examples of Kailitech R & D facilities, inspection and testing instruments and equipments.



Kailitech is cooperating with China well-known universities and has established an independent R & D centre, integrating production, education and research.

R&D center

R&D center

R&D center

R&D center

R&D center

R&D center

R&D center

R&D center

R&D center
Kailitech lab has full range of research and development equipments, such as wide-width sweep frequency tester, material granularity analyzer, d33 tester, spectrum analyzer, metallographic microscope, etc., as well as reliability verification test equipments for various products, which guarantees reliabilities for the new products R&D testing.
---
Limited Warranty
Kailitech Sound Component products are warranted against defect in materials and workmanship under normal use and service. This warranty does not cover any damage or wear resulting from abuse, accident, misuse, negligence, improper storage or handling, unauthorized adjustment or alteration, or repair by anyone other than Kailitech representatives. In the event of a defect covered by this warranty, Kailitech, at its option, will provide repair, replacement, or credit for products that are defective within the warranty period.
For further information, please send a request to market@kailitech.com